Working Capital magazine
Working Capital is the magazine for Edinburgh's Strategic Skills Pipeline and Joined Up for Jobs.
It is published quarterly and gives information about employment and employability activity in Edinburgh, Midlothian and East Lothian, highlighting talking points and important policy issues.
You can download the previous four editions of Working Capital by clicking on the issues attached at the bottom of the page. If you would like to view an older issue not available on this page, please contact Paige Evans, Business and Communications Officer.
Working Capital Magazine - Issue 26 [December 2018]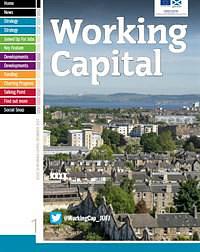 This issue sees the key feature on page 6 focus on volunteering as a route into employment. This comes at a time when Volunteer Edinburgh are celebrating the ten year anniversary of the start of their employability programmes. There are also case studies, information on NHS Community Link Workers, details of recent Participatory Budgeting, more details on the City Region Deal, the future of the JUFJ Forum and lots more.
If you would like to be added to the distribution list to receive future copies of Working Capital, please log in to the user portal, click in to 'edit user details' and check the box which says 'I would like to receive Working Capital magazine by email'.
Previous editions: