We believe working closely with employers is the key to delivering success for our city's economy.
Joined Up for Business (JUfB) is coordinated by Capital City Partnership(this will open in a new window) (CCP) and brings together key public organisations under one framework to provide a single point of contact for employer services, making it easier for organisations to access the support they need.
Our partners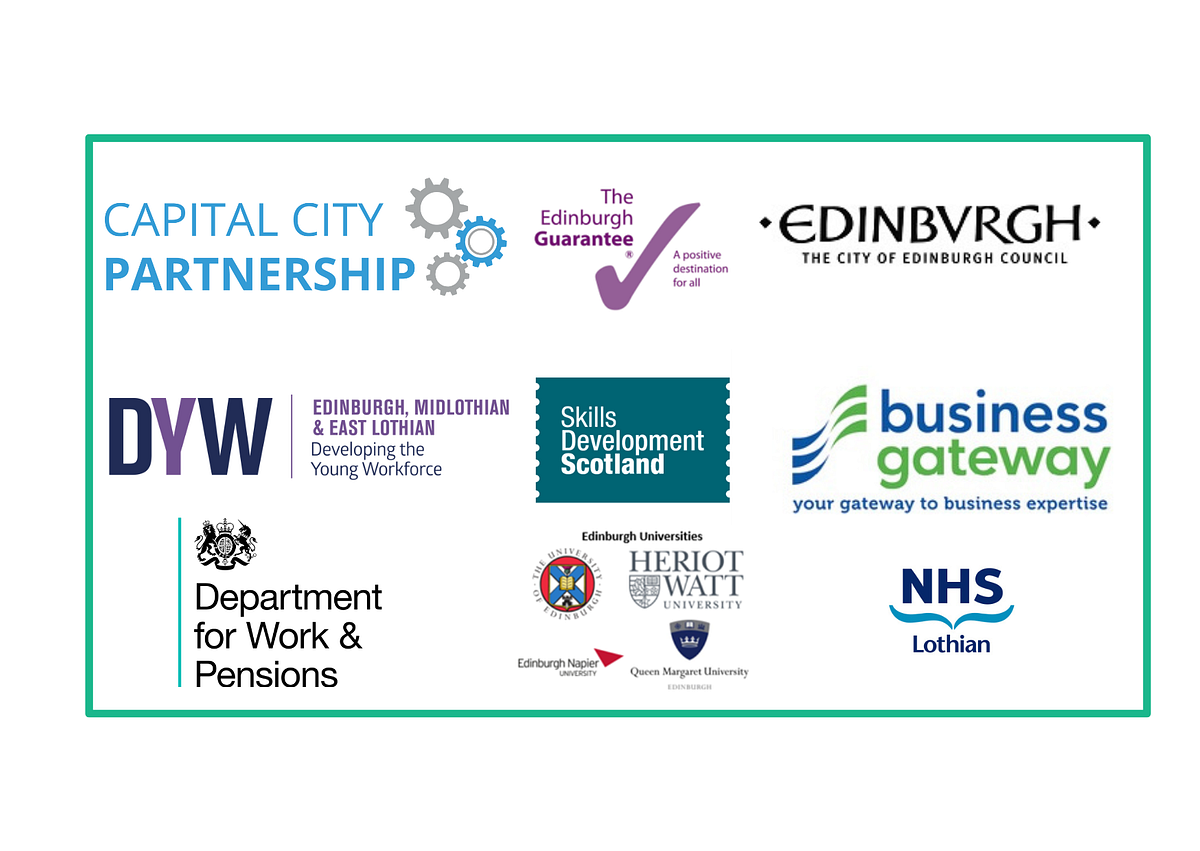 What we do
The JUfB team offer a free, bespoke service to employers that makes it easier to do business in Edinburgh. Whether you are a multi-national or a fledging business we can offer a range of support to suit your needs, such as:
Recruitment support
Training & development
Vacancy posting through varied channels and networks
Identifying funding incentives
Business advice (e.g. redundancy, retention and more)
SME & micro-business support
Support work placement or work experience opportunities
Community Benefits advice and support
Provide a single point of access to Edinburgh's employability providers and organisations - Joined Up for Jobs (JUfJ)
Training & Development
Vocational Training Framework
Capital City Partnership's Vocational Training Framework (VTF) offers free sector-specific training with recognised certificates and a guaranteed interview for participants. We can tailor our courses to your organisation and requirements, some of the sectors we cover are below:
Each course also provides learners with employment and career advice as well as comprehensive interview preparation and subsequent in-work support.
To learn more about how this may work for your organisation, you can get in touch with our training team at TrainingAcademy@capitalcitypartnership.org
VTF Employer Pack
Recruitment & Skills Centres
JUfB also manages the Recruitment & Skills Centres across the city to support employers and candidates on-site at St James Quarter(this will open in a new window) and Fort Kinnaird Retail Park(this will open in a new window).
Fort Kinnaird Recruitment & Skills Centre (this will open in a new window)(FKRSC) is a working partnership with British Land (this will open in a new window)that supports employers based within and around Fort Kinnaird Retail Park with their recruitment and training needs and helps job seekers with job application support and further training opportunities.
FUSE(this will open in a new window) is the recruitment hub for the new St James Quarter and city centre. The FUSE team support recruitment and training for employers within this area.
Both hubs also work closely with schools and local communities to highlight opportunities and career pathways.
Stay connected
Get in touch with Stephanie Lang (Head of Employer Relationships) or Neil Pedersen (Employer Relationship Manager) if you would like further information about how we can support you.
Something specific in mind? You might find the answer on our FAQs page.
If you are enquiring about Community Benefits, please refer to our dedicated page.
Our Employer Resources page provides links to funding and guidance on legislation and the Joined Up for Jobs Directory provides a full list of partners and services.
Follow us on Twitter(this will open in a new window) and LinkedIn(this will open in a new window).
Sign up for our mailing list(this will open in a new window) for the latest updates straight to your inbox.